29 Backyard Gift Ideas for the Holidays
Buying holiday gifts can be tough! Most of us can agree that everyone enjoys beautiful weather, so wouldn't it make sense to buy a gift to appreciate it to its fullest extent? Whether you're wanting a backyard gift to a please a crowd; relax in the serenity of your backyard, or landscaping a garden, you can NEVER FAIL when buying a backyard gift. 
Don't have time to research backyard gifts that you think the person you're buying for will like? That's okay – we got you! Our meticulously composed list of 29 backyard gifts will satisfy any need for any occasion and for any person. 
These backyard gifts have been conveniently broken down into 4 categories backyard gift ideas for relaxation; the family; the entertainer; and the grill master.
Backyard Gift Ideas For Relaxation 
This Positivity Bell isn't only a great backyard gift because it's beautiful to look at, but what's better than laying in the back yard on your hammock (might we suggest the one below?) and hearing the glorious chime through the gentle breeze!? Pick up this awesome backyard gift for $42.00
Hammocks are great! Except… what do you do when there are no trees? You buy a portable hammock with a stand, of course! If the person you're buying a backyard gift for doesn't have a yard filled with trees, but loves to relax, then the Mock ONE portable folding hammock and stand is for them! Become the best gift-giver by gifting this hammock this season for $179.00
A butterfly is a symbol of beauty – which is precisely what a Monarch Butterfly Sanctuary would add to any backyard. Pick up this beautiful backyard gift for $229.95
Take a dip in the pool and climb into this eye-catching Modway Siesta Outdoor Wicker Patio Canopy Bed for as little as $941.75! Coming in a selection of colors to choose from, this would make a great backyard gift!
Backyard Gift Ideas For The Family
This bean bag game is the perfect backyard gift for all ages and occasions! It consists of multiple buckets placed at different heights, and each height holds a different number of points. Throw your bean bag in a bucket, win points – that simple! Easy to learn and easy to play. Score this awesome game for $59.95. Did we mention it comes in a travel bag?
This game stands over 2.5' tall and brings the nostalgia of the oh-so-loved childhood game that everyone remembers, making it a GREAT backyard gift. Children will get a kick out of the huge chips versus what they are used to playing on the tabletop. Add this backyard gift to your cart for $89.99.
Another exciting and adult-sized version of a beloved childhood game that everyone can enjoy! This inflatable backyard gift puts a fun twist on the original because you can't fall off 2' to the ground with the original – so get ready for lots of laughs! This specific backyard gift will more than likely double as a trampoline for the young ones.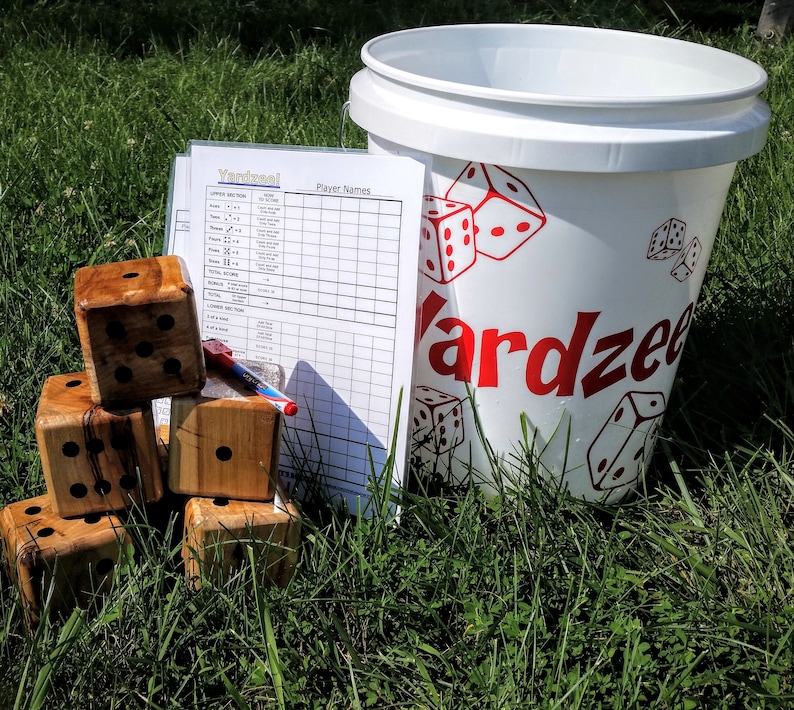 Starting to see a trend? Any tabletop game that you can create to be oversized will become an instant backyard sensation – hence the reason why it is an excellent backyard gift and made this list. The suspense of wondering if your third dice roll will result in being able to shout out "Yahtzee!" is even more intense with the size of this game! The best part of this backyard gift, it's a duo. Not only do you get Yardzee, but you get Farkle too! The price of this backyard gift comes in at $62.95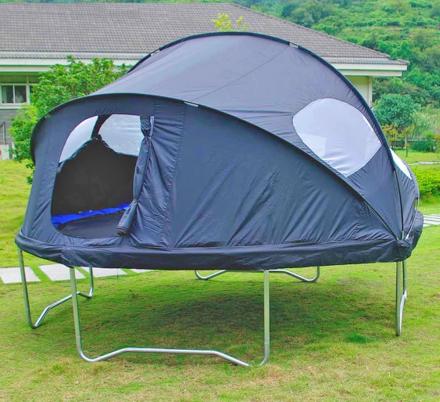 We want to be clear that this backyard gift does NOT include the trampoline. This trampoline tent is what young adults these days wish they had when they hosted sleepovers with their friends so that they didn't get eaten alive by the bugs! This awesome gift is for the child, young-at-heart, elderly…. Really any age that wants to sleep under the stars on the trampoline! Get this to your door for $159.99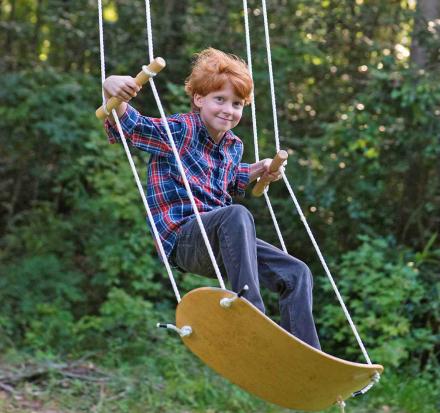 Swing your way into the "best gift-giver" status with this backyard gift! The swing-styled surfboard (or is it a surfboard styled swing?) tree swing a.k.a. "Swurfer" is great for letting the kiddos burn some energy. Let out your giddy inner-child and score this Swurfer this Holiday season for $129.99
A new age of sandboxes has arrived. Say 'goodbye' to the classic green turtle because there's a new guy in town! This convertible sandbox makes for a great backyard gift because it helps the child prevent themselves from having to sit in the sand and getting their clothes dirty. Okay, that's probably not the purpose – but it is a very eye-catching design. You can get this backyard gift to your door for as little as $122.95
Don't let the sunset on your fun! The Cornhole Night Light Set is the perfect backyard gift for when you're really into that game of Cornhole and don't want the darkness to end your game! Get this excellent party-saving backyard gift for just $34.99
Backyard Gift Ideas For The Entertainer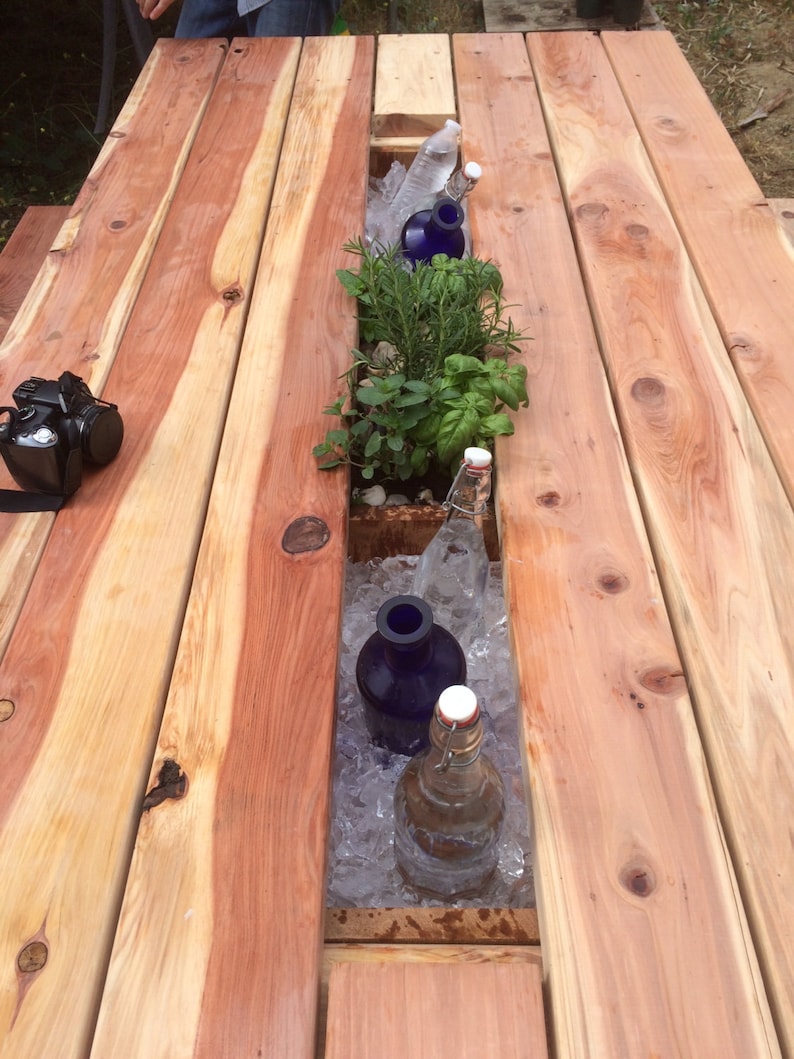 This is one cool backyard gift if you ask us. Made from Redwood and hand-crafted, this super cool picnic table also serves as an eye-catching planter AND a drink cooler! This picnic table is fully customizable and starts with a price tag of $999.00, depending on customization
Bugs in your drink are the worst! This backyard gift is sure to be a crowd-pleaser. While it is labeled 'for wine' it can be used on virtually any cup/glass that has a rim that will fit the cover. This backyard gift serves as a solution to a common problem that runs you about $19.95 for a set of 4 drink covers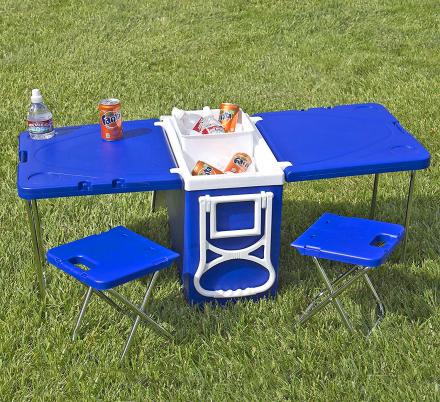 You know what really sucks? Having nowhere to sit. Luckily, this backyard gift has 3 THREE USES! It is a cooler, 2 tables, and 2 stools! Gone are the days of standing to eat your barbeque ribs while holding your paper plate to your chin with one hand, trying to use the other hand to maneuver your fork to your mouth with a beer in that hand. This multi-use backyard gift will cost you only $65.95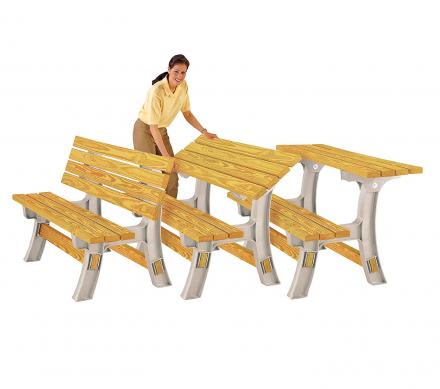 This Converting Bench Table Kit makes the perfect backyard gift for someone who knows their way around a hammer and set of directions. This kit provides all the hardware and instructions to create a dual-use bench that easily converts to a table with a swift move. This backyard gift requires you to buy the wood to install, but the kit itself only costs a mere $53.27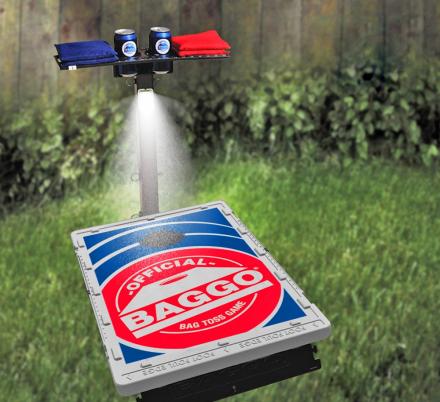 It doesn't get any cooler than this… A Corn Hole Lighted Drink Caddy that not only eliminates the phrase "Hold my beer" from your vocabulary but ALSO "What's the score?". This super cool backyard is a 1. Drink holder 2. Scorekeeper 3. Board light. 4. Cleans itself up after the game. Okay – we made that last one up, but it is still so cool! This backyard gift will cost you $39.95 for the set of 2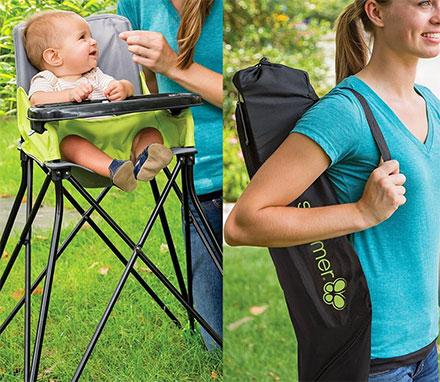 The Portable Folding Highchair serves as the perfect solution for when your guests have a small child – because feeding a toddler on your lap isn't the easiest. This seat w/travel bag runs $30.80
This cooler/table is something that everyone needs in their backyard and that anyone will appreciate, therefore a perfect backyard gift. Height of the table is adjustable to accommodate your entertaining environment. Sitting down? Push the table down into a low-top position. Standing? Pull the table to a high-top position, and you expose the cooler feature – and quite frankly, the COOLEST feature! This super cool Keter Cooler/Table costs around $58.00
Is it even 'entertaining' if you don't have music? The Waterproof Bluetooth Floating Speaker is just that, waterproof; it's Bluetooth capable; it floats, and it is equipped with a high-quality speaker. Need we say anymore? Oh yeah, it's made our backyard gift list for being all of those things.
This Flame Fire Bowl is SO pretty that you will catch yourself immersed its glorious flame. Be a proud giver of this backyard gift that is sure to be the talk of the party for only $47.99
Fire glass is something that you would think isn't scientifically possible, because standard glass melts at a temperature of 1,427 to 1,538 degrees Fahrenheit. Well, the reason that this works out so perfectly is that tempered glass does not burn due to its original cooling technique. Surprise a lucky someone with stunning backyard gift to enhance their pit for as little as $62.24
The ratio for entertaining the perfect party is 50% execution and 50% presentation. Light-Up Mini Jellies may not help you execute the party to perfection, but they WILL create a stunning presentation to celebrate the sun's descent into the horizon. Add color to a party with this backyard gift!
Backyard Gift Ideas For The Grill Master
Ever want to grill pizza over a charcoal grill? With this pizza oven for charcoal grills, you can do just that. Give someone the gift of charcoal-grilled pizza for $99.95
The animated sitcom "King Of The Hill" taught us that not everyone likes charcoal and that some people prefer "propane and propane accessories". Not all of us are as savvy as Mr. Hank Hill when it comes to propane, but at least this backyard gift makes anyone look like a master for $229.00
This backyard gift is another one that we debated on which category it should go in. Truth is, it could work for many. This Sunflora Picnic Backpack comes fully equipped to set 4 picnic place-settings complete with everything from eating utensils to wine glasses. Get this prime backyard gift under your tree for $71.99
Typically, you would want to set aside a good 6 hours to smoke a 12-pound turkey, but with this awesome backyard gift – a CONVECTION smoker – you only need roughly an hour and a half and $199.00!
Meet the Big Bertha of pellet grills. The Beast. This backyard gift is the perfect gift for that grilling prodigy. As the gift-giver, you'd be the talk of the block – or perhaps even the town because this beast comes with a price tag reading $2,906.64
We hope you enjoyed our list of 29 Backyard Gift Ideas for the Holidays.
Let us know if you have any suggestions to add or what you're favorite backyard gift is!